Overnight, at least three businesses within the city of Antioch were hit by burglars according to the Antioch Police Department
The businesses who were targeted include Al's Donuts (Lone Tree Way), Chrome Coffee (W 4th Street) and Monica's Riverview (I Street)–Monica's was hit back on February 19 as well.  Antioch Police confirmed the burglaries but were unaware as of 7:50 am if anyone else had been burglarized.  It's unknown if the burglaries were connected by the same subject or random acts.
According to the Antioch Police Crime Logs, between January 1 – March 25, there have been 89 reported business burglaries. However, this number is underreported as businesses do not report all of their crime to Antioch Police nor do they fill out an online report.
This week, the Antioch Police Department announced the arrest of Jason Alexander, 40, for allegedly breaking into three optometry businesses.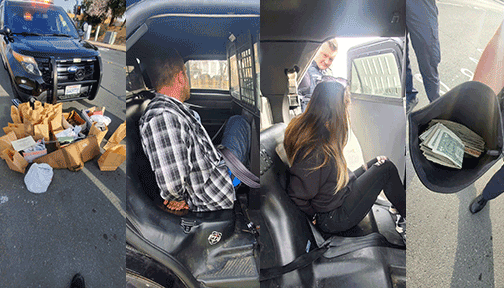 In February, police identified and arrested Casey Beck and Alyssa Castro who were both charged with several crimes to include multiple burglaries. Beck was a parolee at large. Officer's on day-shift continued to work leads when graveyard went off duty. An officer conducting follow up located the vehicle and conducted a traffic stop.
Here is a rundown of the burglaries per Antioch Police crime logs:
1/1 – 2600 block Somersville Rd.
1/2 – 3400 block Deer Valley Rd
1/2 – 1900 block Auto Center Dr.
1/2 – 1700 block Verne Roberts Cir.
1/4 – 3700 block Lone Tree Way
1/4 – 4600 block Golf Course Rd
1/4 – 3600 block Lone Tree Way
1/7 – 1600 block Vineyard Dr.
1/9 – 2200 block Wilbur Ave
1/9 – 5000 block Lone Tree Way
1/9 – 2500 block San Jose Dr.
1/11 – 1400 block Verne Roberts Cir
1/11 – 5800 block Lone Tree Way
1/11 – 1600 block A St.
1/12 – 1200 block auto Center Dr.
1/13 – 1800 block A St.
1/13 – 1900 block Verne Roberts
1/15 – 1500 block A St.
1/16 – 200 block W 19th St.
1/16 – 1200 block Auto Center Dr.
1/17 – 5000 block Lone Tree Way
1/18 – 5800 block Lone Tree Way
1/18 – 1300 block Sunset Dr.
1/18 – 2900 block Delta Fair
1/19 – 2700 block W Tregallas
1/19 – 3900 block Delta Fair Blvd.
1/20 – 2700 block Hillcrest Ave
1/21 – 5800 block Lone Tree Way
1/21 – 4100 block Lone Tree Way
1/21 – 2700 block Hillcrest Ave
1/21 – 1400 block W 4th St.
1/22 – 3100 block Contra Loma Blvd.
1/22 – 5000 block Lone Tree Way
1/23 – 5000 block Lone Tree Way
1/25 – 2400 block Maywood Way
1/26 – 3400 block Deer Valley Rd.
1/28 – 1200 block Sunset Lane
1/28 – 3600 block Delta Fair Blvd.
1/30 – 2700 block Delta Fair
1/30 – 4300 block Hillcrest Ave
2/1 – 4200 block Lone Tree Way
2/2 – 1300 block Fitzuren
2/2 – 3600 block Delta Fair Blvd.
2/4 – 2700 block Delta Fair Blvd.
2/4 – 4600 block Golf Course Rd.
2/5 – 4600 block Golf Course Rd
2/9 – 200 block W 19th St.
2/9 – 4100 block Lone Tree Way
2/10 – 1800 block Woodland Dr.
2/13 – 4300 block Hillcrest Ave
2/13 – 4100 block Lone Tree Way
2/13 – 4600 block Golf Course Rd.
2/15 – 2700 block Hillcrest Ave
2/15 – 5000 block Lone Tree Way
2/16 – 4600 block Golf Course Rd.
2/16 – 4600 block Lone Tree Way
2/16 – 4100 block Lone Tree Way
2/16 – 300 block L St.
2/16 – 1500 block W 10th
2/17 – 3400 block Deer Valley Rd
2/17 – 5800 block Lone Tree Way
2/19 – 0 block I St.
2/23 – 500 block Sunset Dr.
2/25 – 1800 block Auto Center
3/6 – 2700 block W Tregallas Rd.
3/6 – 0 block I St.
3/7 – 200 block W 19th St.
3/7 – 500 block Sunset Dr.
3/8 – 2400 block Wilbur Ave.
2/26 – 5500 block Lone Tree Way
3/2 – 4400 block Lone Tree Way
3/2 – 5700 block Lone Tree Way
3/4 – 4800 block Golf Course Rd.
3/4 – 1300 block Sunset Dr
3/4 – 1300 block Sunset Dr.
3/12 – 2700 block W 10th St.
3/14 – 300 block G St.
3/14 – 1700 block E 18th St.
3/15 – 4000 block Lone Tree Way
3/16 – 4600 block Golf Course Rd.
3/18 – 400 block G St
3/19 – 4100 block Lone Tree Way
3/21 – 4700 block Lone Tree Way
3//22 – 3100 block Buchanan Rd.
3/22 – 3600 block Golf Course Road
3/24 – 2600 block Somersville Rd
3/24 – 2200 block Buchanan Rd
3/24 – 4000 block Lone Tree Way
3/24 – 5000 block Lone Tree Way
Call Logs: